Brain-dead Delhi youth saves lives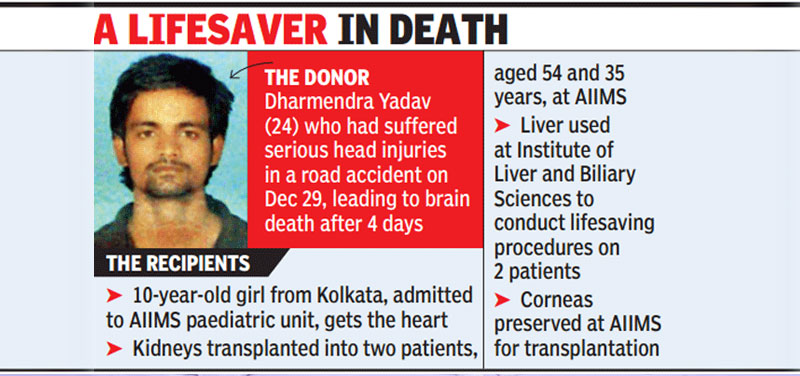 The Donor - Dharmender Yadav

NEW DELHI: A 24-year-old boy who was declared brain-dead at AIIMS trauma centre after suffering severe head injuries in a road accident last week, gave away gift of life to at least five people, including a 10-year-old girl suffering from heart failure.
The girl who had been admitted to the Cardiothoracic and Vascular surgery(CTVS) ward for a month was diagnosed with a condition called dilated cardiomyopathy.
According to Dr Balram Airan, chief of CTVS at AIIMS, the heart transplant lasted through the night. "We had to realign blood vessels of the 10-year-old to correct the mismatch in size of the blood vessels since the donor was an adult," he said.
The donor, 24-year-old Dharmendra Yadav from Sangam Vihar, suffered a road accident on December 29 and four days later, he was declared brain-dead at AIIMS. Doctors said his relatives agreed to donate his organs, and already he has saved five lives in the new year, with his cornea and kidneys transplanted at AIIMS and liver sent to Delhi government's Institute of Liver and Billiary Sciences, where it was divided between two patients.
Dr M C Misra, director, AIIMS lauded the efforts of the organ retrieval team and the surgeons over this feat. "Last year, AIIMS received only two cadaver donations against an average of 10-12 cadaver donations each year. In 2013, there were 80 cases of brain dead persons and the conversion rate was 12. Last year, however, against 60 brain dead cases there were only two conversions. This year we are hoping to see better conversion rate," he said.
Brain death means irreversible loss of brain functions which has to be certified by a team of experts as per the law. Once a patient is declared brain-dead, more than 34 different organs and tissues can be harvested including heart, kidney, lung, liver and pancreas among others.