Rare Intestine Transplant at Govt Hospital Saves Life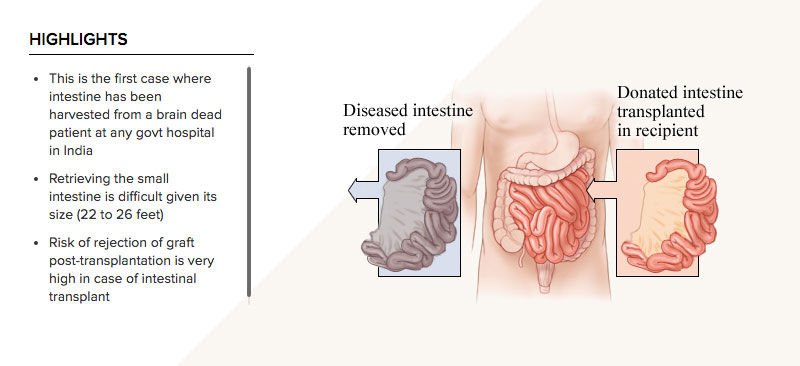 New Delhi:At least five patients requiring urgent transplant got a new lease of life when the family of a 22-yearold man, who died after suffering severe head injuries in a road accident in west Delhi's Dwarka recently, decided to donate his organs, including the intestine, to Safdarjung Hospital.
In India, few hospitals retrieve and transplant intestine, the reason why Nirbhaya, the 23-year-old gangrape victim, had to be airlifted to Singapore in 2012 for intestinal transplant surgery. Its successful transplantation is a rare feat in India, said officials.
Retrieval of heart, kidney and liver is common but this is the first case where intestine has been harvested from a brain dead patient at any government hospital in the country, Dr Jagdish Prasad, director general of health services, told TOI. "I salute the family for bravely putting its grief behind and coming forward to give the gift of life to others."
While the donor's heart, liver and a kidney were used for transplantation at AIIMS, another kidney and the intestine were transplanted at Safdarjung and a private hospital.
Sangeeta Sharawat, the transplant coordinator at Safdarjung Hospital, said the youth had lost his parents "even before turning 1. His uncle, who lives in Uttarakhand, had brought him up".
He recently cleared an interview for a CISF job and came to Dwarka in February to meet relatives. He was walking towards a relative's house when a speeding motorbike hit him from behind. A PCR van took him to a local hospital, which immediately referred him to Safdarjung Hospital.
However, multiple tests confirmed he was brain dead, following which the hospital tried to convince the family to donate organs, Sharawat said. "They were hesitant initially and his uncle, who had brought him up, cried inconsolably. But later, he only gave the consent for donating all the organs."
The family is currently in Uttarakhand to perform the last rites and the hospital did not share more details to maintain their privacy. "We are planning to felicitate them next week for their contribution to the cause of organ donation," an official said.
"Retrieving the small intestine is difficult given its size (22 to 26 feet). Also, it is surrounded by a complex network of lymph nodes and tissues. Any mistake can leave the exercise futile. That's why not many surgeons attempt it," said a doctor. He said risk of rejection of graft post-transplantation was also very high in case of intestinal transplant.