Organ Harvesting a Bigger Battle than Donation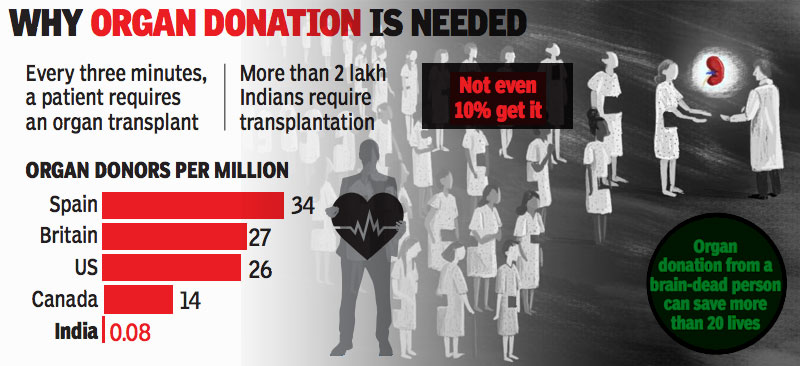 New Delhi: A 58-year-old man willing to donate his organs post-brain death had to travel from Rohtak to Delhi to fulfill his last wishes, an act that gave a new lease of life to at least three people, because Haryana doesn't have an organ retrieval centre. The state relies on Postgraduate Institute of Medical Education and Research, Chandigarh, for organ retrieval from the brain-dead, a shortcoming shared by many states in north India, including Punjab and Himachal Pradesh.
Even in Delhi, just a handful public hospitals have an active organ retrieval programme, a senior official of the National Organ and Tissue Transplant Organisation (NOTTO) told TOI.
The 58-year-old donor was admitted to a private hospital in Rohtak last week after suffering from brain haemorrhage. When the doctors confirmed that the damage to the brain was irrecoverable, his family offered to donate the organs. To their shock, the family was told that the hospital in question, and others in the state, didn't have a retrieval facility. Local doctors contacted NOTTO, which tried to send a team from Safdarjung Hospital to bring the patient to Delhi, but due to some reason, even that couldn't happen. Finally, a team of doctors from Max Hospital, Saket, went to Rohtak and brought the brain-dead donor to Delhi in an ambulance at around 11pm on Wednesday.
After conducting multiple tests to confirm brain death, the donor's liver, two kidneys and corneas were harvested.
Dr Subhash Gupta, senior liver transplant surgeon at Max-Saket, said the donated liver was used successfully to save the life of a 57- year-old man. The donor's kidneys, sources said, were used to save the life of needy patients at Max Saket and Jaypee Hospital in Noida, respectively. "His heart couldn't be used for transplant as coronary angiogram revealed it was diseased. The donor's corneas have been donated to an eye bank," the source added.
"This is extremely sad. Why should a family willing to donate organs have to go through such ordeal? We talk so much about the need to create awareness about organ donation, but where are the facilities for retrieval and transplant?" asked a doctor.
He said big private hospitals conduct transplants but few have active retrieval programme. "Delhi has 39 staterun hospitals. But if you check the records, the number of donations from the brain dead is less than four or five," another doctor said.
"In the case of the Rohtak donor, his son was very motivated to donate his father's organs. The deceased was a social worker and he had expressed the desire to donate the organs post-death, so that needy patients could be saved through transplant," a transplant coordinator involved in the process said.
Director General of Health Services (DGHS) Jagdish Prasad said the government had been holding cadaveric workshops in many states to train doctors for organ retrieval and transplant.
"No organ should be lost due to the lack of retrieval facility. We are working to ensure this," he said. Recently, the DGHS added, 25 doctors were trained in Bangalore for organ retrieval.
A living donor can donate only a kidney, a portion of pancreas and liver to his or her immediate blood relative but an individual declared brain dead, who is otherwise healthy, can help multiple persons. His or her heart, two kidneys, liver, corneas, even the bones and skin can be used to infuse new life into others.