Peddle for The Cause- Challenge, A Case Study.
Dr Vishal Chadda
Vice President, Dadhichi Deh Dan Samiti
These are the Excerpts from an interaction with Abhishek Garg, a final year MBBS student, UCMS who along with his team took the task to parallel the efforts required for Jan Jagran in organ donation by challenging one of the toughest terrain in the world.
A young team of 6 brave heart cyclists took the herculean task to peddle from Manali to Leh, one of the toughest terrains of the world with the aim to spread awareness about organ donation.
In a country of 133 crore people who believe in giving donation for centuries, land of Rishi Dadhichi, Maharaja Shibi and Danveer Karan who gave away everything for a mere pittance; still millions die in wait for an organ donation. These bravehearts took this endeavour to deliver this message to the masses.
When I recall Sunderkaand, where Jambavantha ji ask for the one brave to cross the ocean, he meant not only the powerful but also patient and wise. Before the team could meet at Manali, their patience and wisdom were also put to test.
God tests all his missionaries, similarly Abhishek Garg , captain of the team was tested by nature from day one of his journey.
He started his journey from the Delhi Secretariat on 21st June 2017. Monsoon had just knocked on the door and since the wee hours of morning it seemed as if Lord Indra was showering his blessings for the noble cause, a good omen!
But it rained so heavily that day, that the car Abhishek was driving got stuck in water; it was a total chaos on the roads, he had to reach Delhi Secretariat for flag off at 2pm but could only manage to reach at 4pm on his bicycle which he drove from his home(16km apart) in rain and jam.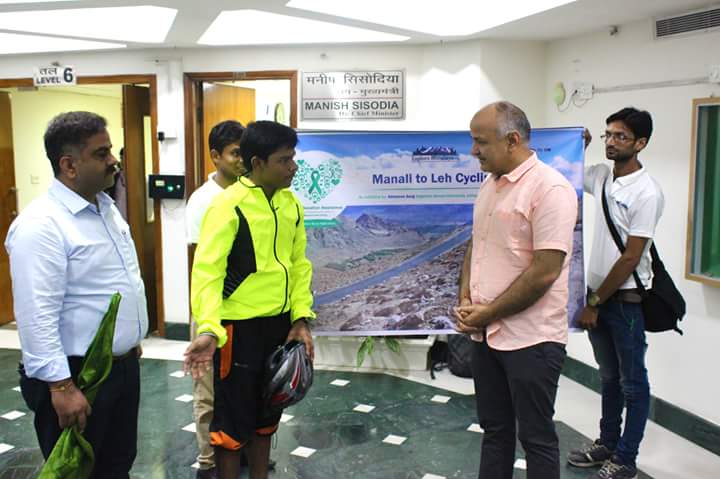 This journey was flagged off by the Hon'ble Deputy Chief Minister, Shri Manish Sisodia, with his best wishes. Then he left to seek blessings of Shri Alok Kumar, President Dadhichi Deh Dan Samiti at GK-1 and reach back home late in the night. He left on 22nd June in bus to Manali with his cycle and gadgets in the evening. The bus he took broke down a number of times and it had to be changed around 150km from Delhi.
But that was not all, another bus that he took also had snags and finally it also halted after traveling 100km. Finally passengers of the bus hired an Innova to reach Manali.
Finally he arrived at manali at 3.30 am on 24th June after a tiring and prolonged journey. Early in the morning when Abhishek connected with his family and friends in Delhi, everyone asked him to return back as these omens were not encouraging. Family wanted him to take adequate rest atleast but the Hanuman inside Abhishek had already decided to deliver this divine message to the final destination Leh, as scheduled. Then the team started from Manali for this 500km thrilling adventure with a cause.
The team travelled through the route and met a lot of locals and tourists on the way, educating them about organ donation. Team communicated with the fellow travellers on the track and sensitised them regularly.
The army/ base camp on the way had all applause for the team and they appreciated the team for the selfless endeavour.
8 days of cycling from Manali to Leh, one of the toughest terrain was not a child's play. The team travelled through the Rohtang Pass (13058 ft) – Baralachala ( 16166.6 ft) - Nakeela (15547 ft)- Lachung la (16616 ft) – Tanglang la (17582 ft, world's second highest pass).
High altitudes with thin oxygen were crossed with the only objective to look beyond and test your strength, Vigour, patience, wisdom and above all your commitment for the cause to motivate fellow Indians and awake their Sanskars for organ and body donation for the humanity.
Hills and peak on the way were ever increasing, crossing these towering hills and peaks was just like facing the ever growing Sursa Rakshi of the Sunder kaand.
He recalled that numerous locals helped and also blessed the team to accomplish the noble cause.
Finally the team arrived in Leh on 1st July 2017, The Doctors day as scheduled.
Mission accomplished, " When you undertake to serve nature, The nature conspires for your victory".
Team disbanded only to prepare for another assignment in the service of Humanity.